Dr. Robles is originally from Parkland, Florida. Dr. Robles graduated with a bachelors degree in Molecular Biology and Microbiology from the University of Central Florida. She completed her Doctoral of Dental Medicine at Nova Southeastern University in Ft. Lauderdale, Florida and graduated with honors. After graduating dental school, Dr. Robles was accepted into the prestigious periodontology residency program at the Medical University of South Carolina in Charleston where she was awarded for Academic Excellence.  In addition to receiving her certificate in the specialty of Periodontology and Implantology at MUSC, she simultaneously received a Masters of Science in Dentistry.
Dr. Robles has extensive training in periodontal therapy, periodontal plastic surgery (soft tissue augmentation), dental implant therapy, bone and periodontal regenerative surgery and pre-prosthetic surgery. She is also certified in IV/Conscious Sedation. Dr. Robles is extremely passionate about the art and science of Periodontology.  She has a vision and dedication to view the treatment of periodontal disease in the context of each individual's total dental health with a focus on both functional and aesthetic considerations.
Dr. Robles is diplomat of the American Board of Periodontology (May 2017). Board certification in periodontology and implantology is a prestigious title. A Diplomate is the highest achievement in our specialty and reflects mastering both clinical and didactic skills in the field of periodontology and implantology.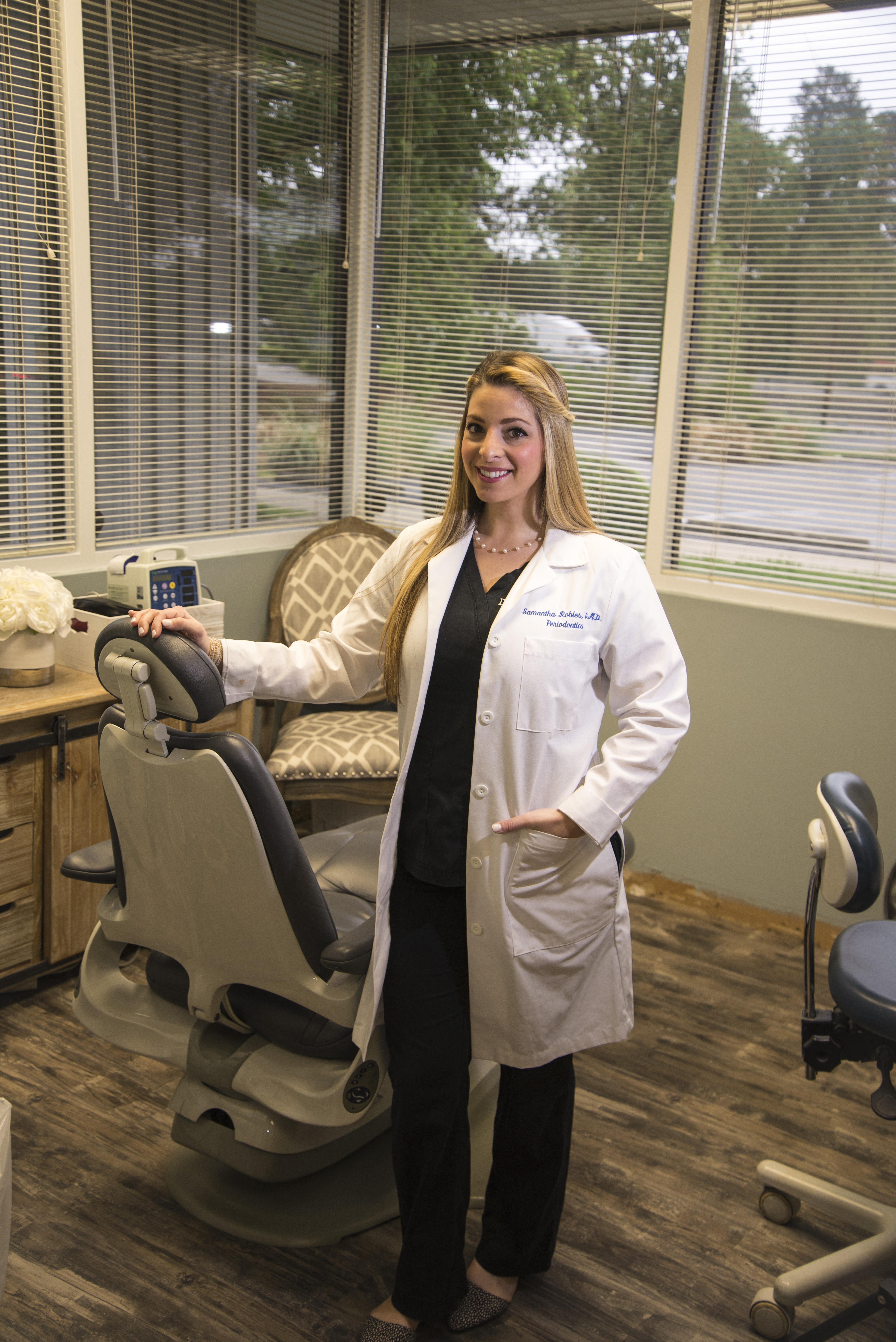 Dr. Robles is a member of:
Southern Academy of Periodontology
American Board of Periodontology
American Academy of Periodontology
American Dental Association
North Carolina Dental Society
John Dilday Study Club
The Triangle Study Club
The Durham/ Orange County Study Club
Besides Periodontology, Dr. Robles enjoys spending time with friends and family. She is a huge dog lover and has two miniature Dachshunds named Peanut and Olive.  She enjoys traveling, cooking, baking and anything outdoors. She met her husband, Matthew Johnson in Charleston, SC where they were married in October of 2017. 
Dr. Robles and her husband, Matthew, welcomed their first child, Penelope Jane, to the world, on January 4, 2020 and their second child, Charles Steven, on April 26, 2021.